Celebrating Our Foundation - 2021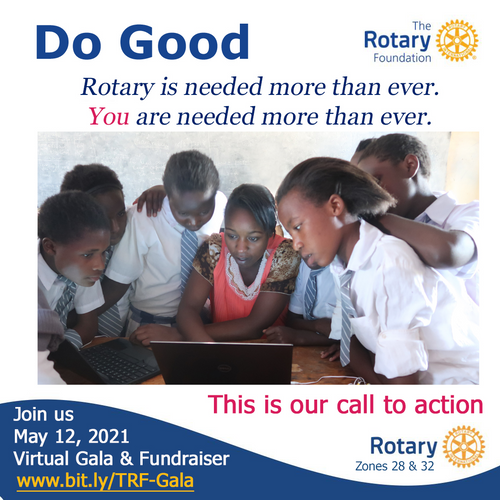 Join Director, Valarie Wafer, and Dean Rohrs, Trustee of The Rotary Foundation, our hosts for this 2021 virtual event. The program begins with our special guest, Rotary International President Nominee, Jennifer Jones, at the "Red Carpet" pre-event:
"Celebrating our Foundation!"
Wednesday 12 May 2021, 8:00pm ET (5:00pm PT)
Here is the introduction: https://vimeo.com/513498000
This will be a ~60 minute fast-paced virtual Gala fundraiser for TRF designed to help the leadership in every one of our 43 Districts in Zones 28 & 32 help promote fundraising for both the Annual Funds and PolioPlus with their members. It is easy for districts to participate, as the show will be created for you and all you have to do is promote it! In this year of pandemic shutdowns all over our Zone it is an ideal opportunity for you to meet or exceed your club & district foundation donation goals!
Our Gala evening will feature a "Red Carpet" pre-show that kicks off at 8:00pm ET sharp hosted by Rotary International's first female President, Jennifer Jones! This will lead us into the variety show with Master of Ceremonies Past RI Director Jeffry Cadorette, distinguished speakers, entertainers, inspiring stories about service supported by TRF and much more!

Tickets to the virtual event are available by clicking the link at left (or go to trellis.org/rotary-gala). They are $110 USD plus applicable fees, of which $100 is a fully credited donation to TRF - you get a charitable tax receipt and 100 Paul Harris Fellowship points, and your District gets credit towards their Foundation goals.
This gives Rotarians their clubs and Districts the opportunity to DO MORE GOOD, and meet the goals they have all set for Foundation donations this year. The donation will be directed 75% to the Annual Fund of TRF and 25% to the PolioPlus fund. The program continues to evolve but we already have some great things lined up for you! Check out the subpages listed below for information:
CLICK HERE: For more details on the Program & Guests
CLICK HERE: For more details on How to Participate
CLICK HERE: Possible Models for the District pre-Event